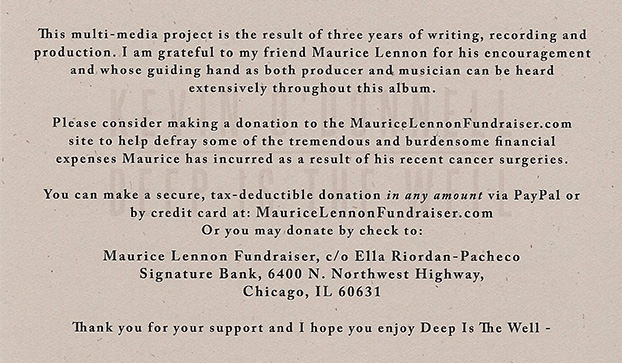 Deep is the Well is an ambitious concept album, a work of historical fiction chronicling seven generations of an Irish-American family.  The album opens with Kevin's recitation of a letter penned by the patriarch of the family, Michael Fagan, in 1838.  The rest of the album unfolds with songs of Michael Fagan's descendants, through 170 years of struggle for the American Dream.  Their experiences still echo in the places they called home – from the forgotten prairie towns of the industrial heartland to the insular steel mill culture rimming the lower Great Lakes; from Times Square in New York City to the San Joaquin Valley in California; and from the frozen copper country of Lake Superior to the rain-soaked suburbs of the Pacific Northwest.
Reviews for Deep is the Well
"The song cycle album is a concept that has caught on well, offering many fine albums since the days where the 'rock opera' helped burgeon in full album concepts. Kevin O'Donnell has done this style proud with a lovely Irish folk affair documenting multiple generations of Irish immigrants in Illinois.
This is all historical fiction, but through both his music and storytelling, you may have the feeling that you have heard some of these songs before."
– FolkWorld.eu, March 2014

"O'Donnell is a bard in every sense of the word, the news, and the history. He recounts all original songs of a journey of centuries past, daily battles lost but an immigrant's war for survival, won, despite it all. It is quintessential Irish married to quintessential Americana, just like you and me.
Deep is the Well is a Top Shelf Selection, one of the best albums I have had the pleasure of hearing this year. I will wear grooves in this one."
– John O'Brien, Jr.
Irish American News Ohio, May 2013

"I have seldom seen a CD that was such an artistic whole, that told such a comprehensive and complete story and that held my interest so completely. Get yourself a copy and let master storyteller Kevin O'Donnell weave his magic around you. It will be a trip you'll remember."
– Jack Baker
Piping It In – Irish American News Column, May 2013

"Deep is the Well is really Kevin O'Donnell's opus magnum – a collection of songs and stories, composed and curated over the course of three decades."
– Irish American News Chicago, May 2013

"Lyrically strong and musically, at the level you would expect with Maurice Lennon involved, it is a record that has depth and emotion within its many hidden layers.
Kevin assumes the position of narrator delving into these themes, finding a musical catharsis for himself and others in the process. It is stirring stuff indeed with the strength of his writing at times hitting hard."
– Tony Lawless
TradConnect, May 2013

"Something like old pages smelling of tobacco, dust and the lives exposed to it.
The music is lush, vibrant but unhurried. It is a story teller's album."
– Baxter Labatos
The Celtic Music Fan, April 2013