Fadó: A Memoir of Life, Liberty, and the Pursuit of Happiness
Audio clip: Adobe Flash Player (version 9 or above) is required to play this audio clip. Download the latest version here. You also need to have JavaScript enabled in your browser.
Listen to a chapter of Fadó, read by the author.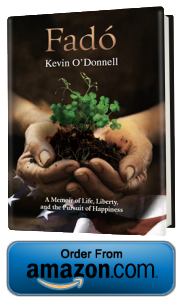 Ireland, 1835 – the author's remote ancestral home, Arranmore Island, languishes on the eve of famine. Meanwhile, carved from the Illinois prairie, a small settlement rises, eventually becoming his boyhood hometown, Mundelein.
Fado, Irish for "long ago", chronicles the surprising confluence of these two cultures. Generations of family heritage, immigration, triumph, and tragedy reveal fascinating ties to a much bigger world. Resonating throughout is the story of son eager to please his father and prove his worth. Fadó is a personal invitation to anyone wishing to explore the depth and truth of one's own heritage – part memoir, part history, affectionately told in exquisite detail.
"Fadó is brilliantly crafted and searingly honest.
Kevin O'Donnell has left us all a real treasure."
– Aidan Gallagher, Dublin, Ireland
Co-author "Arranmore Links"

"Fadó is a winner!"  O'Donnell is an exacting historian with the flair of a poet.
 "Hooley On A Saturday Night" left me in stitches and "The Day Sister Sylvester Fell To Earth" is wickedly funny stuff.
– Tim O'Donnell, Lawrence, Kansas
Author of "A View From The Back Pew: God, Religion & Our Personal Quest for Truth"

"Thoughtful and well-documented. The stories are told with humor, grace and page-turning enthusiasm… a tremendous effort. I couldn't put it down!"
– Dotty Watson, Curator Fort Hill Heritage Museum, Mundelein, Il

 "Fadó puts flesh on the bones of the Donegal People. O'Donnell has done an excellent job of mixing history and memoir, Ireland and America, past and present."
– Lindel Buckley, Kiakura, New Zealand
Author of Donegal Genealogy Resources

"..this is a vast, sprawling book of Irish history, about Arranmore Island in particular, and the author's personal remembrances of growing up in a distant Chicago suburb. It contains many golden nuggets of Irish history and of the Irish-American experience."

– Frank West, Irish American News

"This is a book about fathers and sons, triumphs and tragedies, history and heritage. Many of you will know Kevin as the founder of Arranmore the well-known Chicago band. Now I realize where he took his inspiration from for the many songs he wrote and performed. Brilliant book, I loved it. Well done Kevin, you make me proud to be Irish."
– Shay Clarke, WDCB Radio, Chicagoland

"Fadó is a wonderful story of a man and his family-of-origin's physical, emotional, and spiritual growth. Through humor, determination, and pain, Kevin O'Donnell has drafted a book that is a testament to the American spirit. Wonderfully written and enjoyable to read."

– Martin L. Rohling, Ph.D.
Professor, Director of Clinical Training, Department of Psychology
University of South Alabama, Mobile

"Kevin O'Donnell is a master storyteller. His ability to weave history with his personal accounts make Fadó a marvelous read. Kevin has a phenomenal knack of bringing the rich tapestry of Arranmore to life with a combination of frankness and warmth. I highly recommend this book!"
– Jim Roche
WCIU Television, Chicago